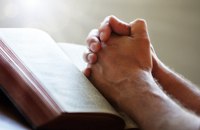 9:00 a.m. Traditional Service is a worship experience featuring the singing of hymns, a choir, organ music, Scripture readings, communion (served weekly) and a sermon by pastor Mark Foglio. Bulletins (or programs) are handed out by greeters at the back of the sanctuary before service every Sunday…
Please keep Mark Foglio in your prayers, as some serious dental issues have kept him under the weather this week. We hope and pray he will be back delivering the Friday message next week!
...

See More

See Less
Due to technical difficulties, we were unable to record this week's online service. We apologize for any inconvenience. Just a reminder for those able and willing, our in-person service is 9 AM Sunday mornings.
Have a blessed Memorial Day weekend!
...

See More

See Less