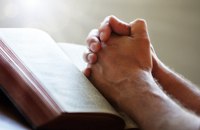 9:00 a.m. Traditional Service is a worship experience featuring the singing of hymns, a choir, organ music, Scripture readings, communion (served weekly) and a sermon by pastor Mark Foglio. Bulletins (or programs) are handed out by greeters at the back of the sanctuary before service every Sunday…
More pics of our dinner theater fun. A special thanks to our writer, producer, and director extraordinaire, Janet Steckmann! ... See MoreSee Less
Way to go Janet Steckmann, and cast!!!
Laughs and dinner at FCC. Thanks to everyone involved in tonight's dinner theater! ... See MoreSee Less
Hope everyone had a good time. Amy was really looking forward to it
So much fun! Thank you for all the hard work.
Thank you very much. It was great and the food was delicious
So nice to see you Tonite. I miss you.
What is the greatest gift God has given you? (question from our small group study) ... See MoreSee Less
Salvation through Jesus Christ